WPP: West Point Products LLC. was Established in 1972. WPP is ISO 9001:2008 certified as well as STMC certied. These certifications ensure peace of mind and quality standards that are important for consumers and resellers. They are one of the largest remanufacturers in North America and their quest for excellence is unbeatable. Many of the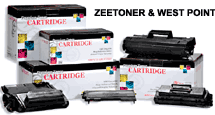 very largest companies in North America use the WPP production and re-brand the products. These companies take advantage of their truly superior manufacturing, quick order turnaround and their large Research and Development team. This combination provides a product that is high in quality with a strong warranty. High volume capacity and quick turnaround are one of the keys to WPP's success. WPP can produce an entire order in one single day. One hundred pieces or 1000 pieces are all part of the norm at WPP. With a dedicated staff and superior training, they are truly one of the very best in North America.
WPP production Capacity is about 250,000 pieces per month and they have warehousing facilities throughout North America. The main production facility is in the United States in WV and the secondary production is in Canada.
It is also to be noted that WPP is the first company to introduce Agritone, a new and more ecofriendly toner made with renewable bio-resources,
West Point Products was recently acquired by Clover Industries and this has allowed them to begin offering inkjet and ribbon products branded under the name of DataProducts. This change has put West Point at the very top of the industry.
WPP product is very proud of their high quality, in fact, they are so particular about releasing new products that they tend to be slower to market then some of other manufacturers in the same domain.
We strongly believe that WPP is a true leader in this field in quality and capacity and of course customer service.